India Masala Las Vegas
(By Naveen)


Address:


India Masala

(Riviera's food court)
2901 South Las Vegas Boulevard
Las Vegas, NV 89109


India Masala Las Vegas: Sexy Li'l Hooker on the Strip
After a week of exploring the eerily desolate canyons of Utah, when we reached
Sin City
aka Las Vegas the first thing on my mind was not slot machines or blackjack or roulette or even the various easy avenues to
sin
but food, spicy tasty Indian food.
You can take the Indian away from India but you separate the Indian from his favorite cuisine only at the risk of getting punched on the nose!
A quick Google search threw up 3-4 choices and we picked
India Masala
at the
Riviera Casino
. It was the closest to our hotel and had decent ratings on some of the review sites.
As we walked towards the Riviera Casino, we were greeted by the strange sight of a Tempo (a cheap Indian automobile with three-wheels and known for its structural instability and a tendency to topple in sharp turns) bearing the name
India Masala
. It was the most profound symbol of the Indian invasion of Vegas.
Ambiance & Etiquette
India Masala
was easy to locate in Riviera's food court. Typical of any food court eatery, the place is self-serve.
For a small eatery, India Masala has a large menu comprising of North-Indian, South-Indian and Indian-Chinese Vegetarian and Non-Vegetarian items. Nice pictures of the food on the menu made for an inviting turn-on, particularly for those unlucky souls not familiar with Indian cuisine.
But there was one glaring error on the menu that caught our eye immediately - the wrong placement of the popular Indian-Chinese fixture Gobi Manchurian under the South Indian category. Uh-oh.
But that was a minor hiccup.
The hosts were polite, patient and helpful to newbies. Standing ahead of us were two Americans who were not well acquainted with Indian cuisine. The person who took their order patiently explained the options, quantity, spice level and offered good recommendations, which is unusual by the normally insolent standards of most Indian restaurants.
Another impressive factor was the promptness with which our order was delivered. Everything good so far.
Delicious South Indian Fare
I didn't have high expectations when I ordered Idly in the middle of an American desert but much to my delightful surprise it turned out to be one of the best Idlies I've had in the US!
It was perfect from the flavor to the appearance to the temperature to the taste. The dough was just perfect for the slightly sour flavor that is associated with a good Idly. The generous portion of the warm and slightly tangy Sambar, the fresh tasting coconut chutney and spicy tomato chutney were unforgettable.
A week of pastas and pizzas were forgotten within a couple of bites of the heavenly idly.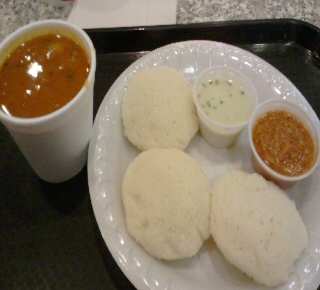 Idly with Sambar and Chutneys
Yummy Masala Dosai
My expectations rose for the next item, the venerable South Indian favorite Masala Dosai.
And unlike hyped up Tamil movies, this Masala Dosai lived up to my high expectations. The Dosai was big, Masala was warm, even and delicious and together with Sambar and chutneys.
I could have been eating anywhere in Chennai and wouldn't have known the difference.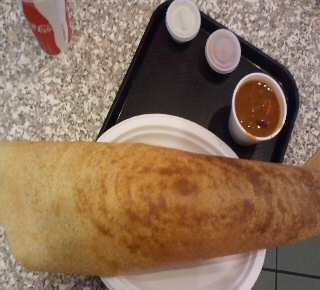 Masala Dosai - Delicious
Fine Indian-Chinese
After the delightful South Indian fare, the next item on this
Bakasura's
plate was Gobi Manchurian. Oh boy, it was another hit! It certainly looked like we hit the jackpot even before we hit the Vegas casinos!
The Manchurian was spiced to my requirements i.e. very spicy.
The sauce was evenly spread and the Cauliflower fried to perfection. The quantity was again generous. It was served with steamed white rice, which I put to good use along with the extra left-over Sambar from Idly and Dosai and made it into Sambar Rice and that tasted heavenly as well.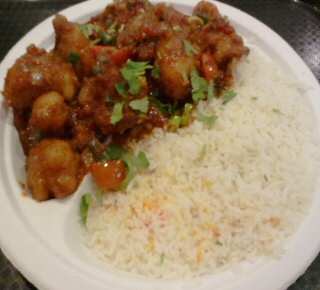 Gobi Manchurian with White Rice
Ho-Hum North Indian
With sky-rocketing expectations and my gargantuan appetite in tow, I moved along to the regular North Indian Thali - 1 big Naan, steamed white rice, Dal Makhani, Channa Masala, Palak Paneer, Raita, Onion slices and Pickles.
Much to our disappointment, the Naan was thick and hard to bite through. Even though it was warm, it didn't have the freshness or the flavor. We had to abandon it half-way through.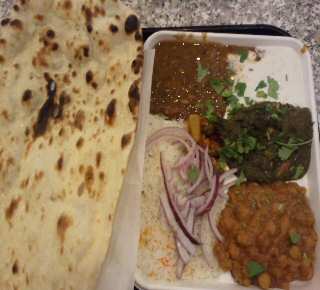 North Indian Thali at India Masala
Palak Paneer was pretty bad.
The Paneer was not evenly cooked and the Palak tasted like half cooked grass (not that I have tasted grass before!). Surely, even Indian cows, holy or otherwise, eat better grass than what we were served.
But Dal Makhani and Channa Masala compensated for the disappointing Palak Paneer. They were as they should be in any Indian restaurant, especially the Channa Masala which is a common item on the menu of most Indian restaurants.
Verdict on India Masala
For Indians who cannot live without Indian food,
India Masala
in Las Vegas is definitely worth a visit. Spicy, tasty food that tingle your palate served promptly with adequate cleanliness right on the Strip.
Go for it!
This sexy li'l Indian hooker aka
India Masala
ain't gonna disappoint you!
- ©
NevadaIndia.com
Tamba Las Vegas - Horrid Indian Food